7 SIMPLE STEPS TO FENG SHUI YOUR HOME OFFICE
Feng Shui is a magical thing. It doesn't just make a space look and feel better. If used properly to Feng Shui your home office, it can increase creativity & productivity, and surge revenue. Just changing one thing can have a dramatic affect on the energy in a room.
In this article, we're going to talk about 7 simple things you can do to improve the Feng Shui in your home office, and get your business on the right track to prosperity. These are beginner's steps to Feng Shui. They are easy to implement and make a great foundation for future, more advanced, Feng Shui techniques.
More...
Sign up for my FREE Feng Shui checklist at the end of this article!
What is Feng Shui?
Simply put, Feng Shui is the flow of energy. It is an ancient Chinese art that defines how and where energy flows, and balancing this energy increases good fortune. Feng Shui is a mirror of what's happening within us. If you feel tired, disheveled and emotionally broken, its likely that the space you work in is cluttered, dirty and in disrepair.
Feng Shui is like the flow of water. A running stream is clean, clear and refreshing – the water is in constant motion and stays fresh. A pond with no inlets will stagnate – the water is dark and murky, and has a foul odor. Your goal is to get the energy in your home office flowing like a stream. Not only will you feel better, have more creativity and focus, but your success and abundance will increase as well!
What does Feng Shui do in your home?
How you place objects and furniture will decide how energy flows. It's how you interact with your environment, and it sets the stage for either success (positive energy flow), or struggle (blocked energy flow). While its true that changing the position of a chair (for example) can change the Feng Shui in your home office, it goes deeper than that. Numerous little changes can lead to big results. Feng Shui can be as simple, or as advanced, as you'd like. The more you learn and implement, the better the energy flow in your home office becomes. However, if you want to just do the simplest of Feng Shui steps (and pass on the complex side), you'll still see great benefit.
How To Use Feng Shui To Your Advantage?
Getting your Feng Shui in alignment with who you are and where you want to go helps to harmonize your energy. Every object has energy, so be mindful to only bring positivity into your home office. When your energy flow is positive, you'll in turn be successful. Follow the steps below to create a environment that is abundant and joyful!
7 Simple Steps to Feng Shui Your Home Office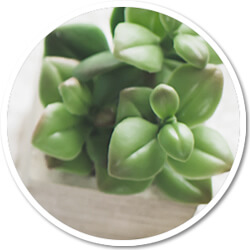 1. Clear blockages. Take a good look at your home office. Is the doorway partially blocked (with hanging clothes, a box of holiday decorations not yet put away, or shopping bags from last week's trip)? Do you have an excessive amount of furniture in the room that makes moving around a struggle? Is your desk or chair in front of a window, or blocking a closet? Now is the time to clear those blockages. Think about positive energy flowing around your office. Imagine it flows in through the doorway and swirls around the room – flowing in, and out, of each window. Make sure that positive energy has a clear pathway! Do not block it's path. Blocked energy can manifest in you, in the form of blocked creativity, writer's block, indecision, and feelings of anxiety. Start by clearing away all the unnecessary blockages and furniture in the room. You should be able to walk freely in, out, and around the room.
2. Tackle the Clutter. Get serious about minimizing the items in your home office. If you find yourself working at the dining room table, because your home office is too cluttered, then it's time for a change. Be tough here, and make the hard decisions. You don't need two pairs of scissors, that sliding stack of magazines, or a box of papers from 2013. Get rid of everything you can. This also means cleaning out the junk drawer and the back of the closet. Even "hidden" clutter will ruin the Feng Shui in your home office. You'll love the extra space you have once the clutter is cleared away.
3. Fix what's broken (or throw it out!). Is the light bulb in your desk lamp burned out? Replace it! Is the screen on your smartphone cracked or shattered? Is your computer from 2004? It's time to invest in new tech. Cracked switch plates, a chipped vase, torn curtains – fix or discard them. Remember that Feng Shui is a reflection of who we are on the inside. Are you feeling lost, sad or uninspired? Look around your office to see what is reflecting those feelings in you. Broken items can cause illness and dis-ease in your physical body, so get rid of anything that's in disrepair.
4. Clean up. You want your home office to be bright, fresh and inviting. Wash the windows, vacuum the baseboards and polish the doorknobs. Open windows to circulate fresh air. A crisp, clean space will foster a clear mind and get your creative juices flowing.
5. Add life to your home office. Healthy life brings positive energy. Adding a couple thriving plants, a tabletop water feature, or a happy fish can greatly increase the flow of positive energy in your home office. It literally breathes new life into the space, and as a result your business will benefit.
6. Increase the good. Reflect and amplify the beautiful things in your office. Do you have a beautiful view out your window? Put a mirror across from it to reflect the view into your office. The same applies to a nicely-designed corner of the room – maybe you have a water feature and beautiful potted plant. Add a mirror to reflect that view into the room. The same applies to a beautiful piece of artwork. Anything that is really wonderful to look at should be multiplied into the room with strategically placed mirrors. Amplify the beauty to add more of it into the room.
7. Add your favorite things. Start by throwing out or donating anything you don't LOVE. Positive energy is all about seeing and being surrounded by the things that bring you joy. If you have an office filled with things that bring you sadness, guilt, bad memories and feelings of financial restriction you need to clear them away, ASAP! Replace them with items that bring you joy. If your home office is a happy place that makes you smile, then you'll be more likely to work. And as an added bonus, that work will be more inspired. You'll feel motivated and confident. Your quality of work will increase simply because you've improved your inner well-being (remember, Feng Shui is a reflection of what's inside you). Transforming your home office into a happy, beautiful space is the fastest way to improve productivity. It doesn't have to be expensive or time-consuming to find a few small items that will make you smile when you see them – a candle, crystal, beautiful seating area, chandelier, a plant, you get the picture. Remember too, that clutter creates places for energy to be blocked. So less is more.
Sign up for my FREE Feng Shui Checklist. It'll make the process easier, as you work through the steps to Feng Shui your home office. I hope you've enjoyed this article.